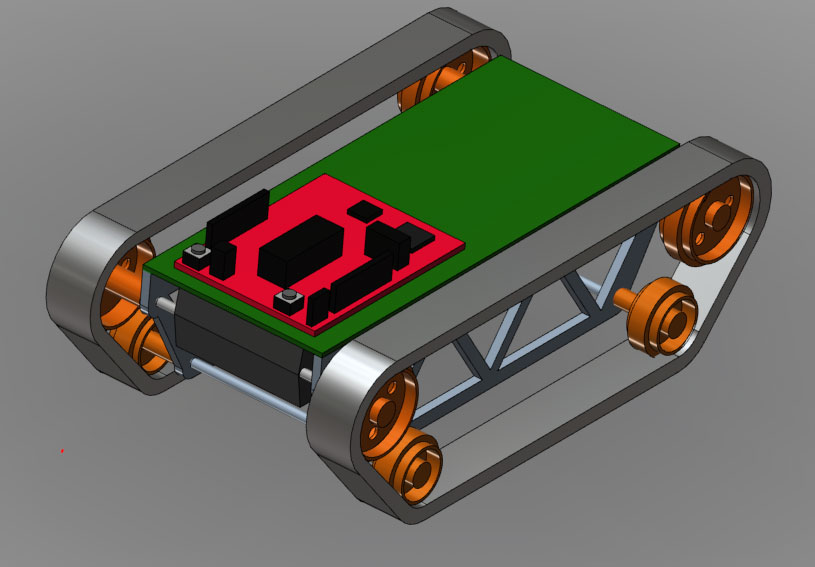 This is my first robot design. It uses the TAMIYA Twin-Motor Gearbox and TAMIYA Track and Wheel Set. The controller is the MSP430 Launch Pad and uses the L298 motor controller. It has 3 switching power supplies providing 3V at 4A, 3.3V at 500mA, and 5V at 1A. The main power source is a single cell 3.7V lithium battery. The robot has a on board lithium battery charger and the protection circuit it needs.
There is a small protoboard area that will allow easy expansion on the PCB. Since most robot sensors run off of 5V there is a 3.3V to 5V bi-directional level shifter using the NVT2010PW. The robot also comes with motor encoders by using photo interrupters.
The chassis has many options in how to build it. Files will be provided on laser cutting, 3D printing, or templates to cut them out manually.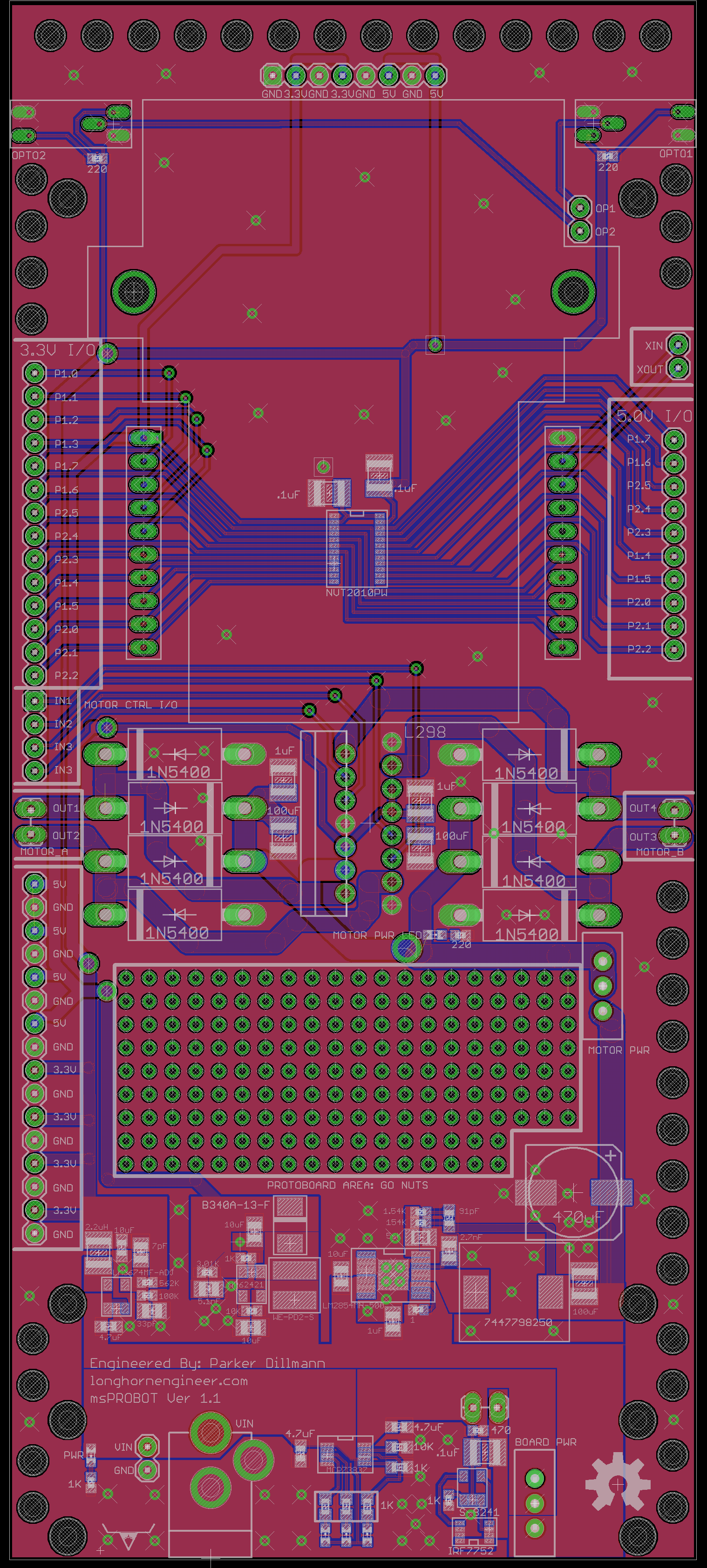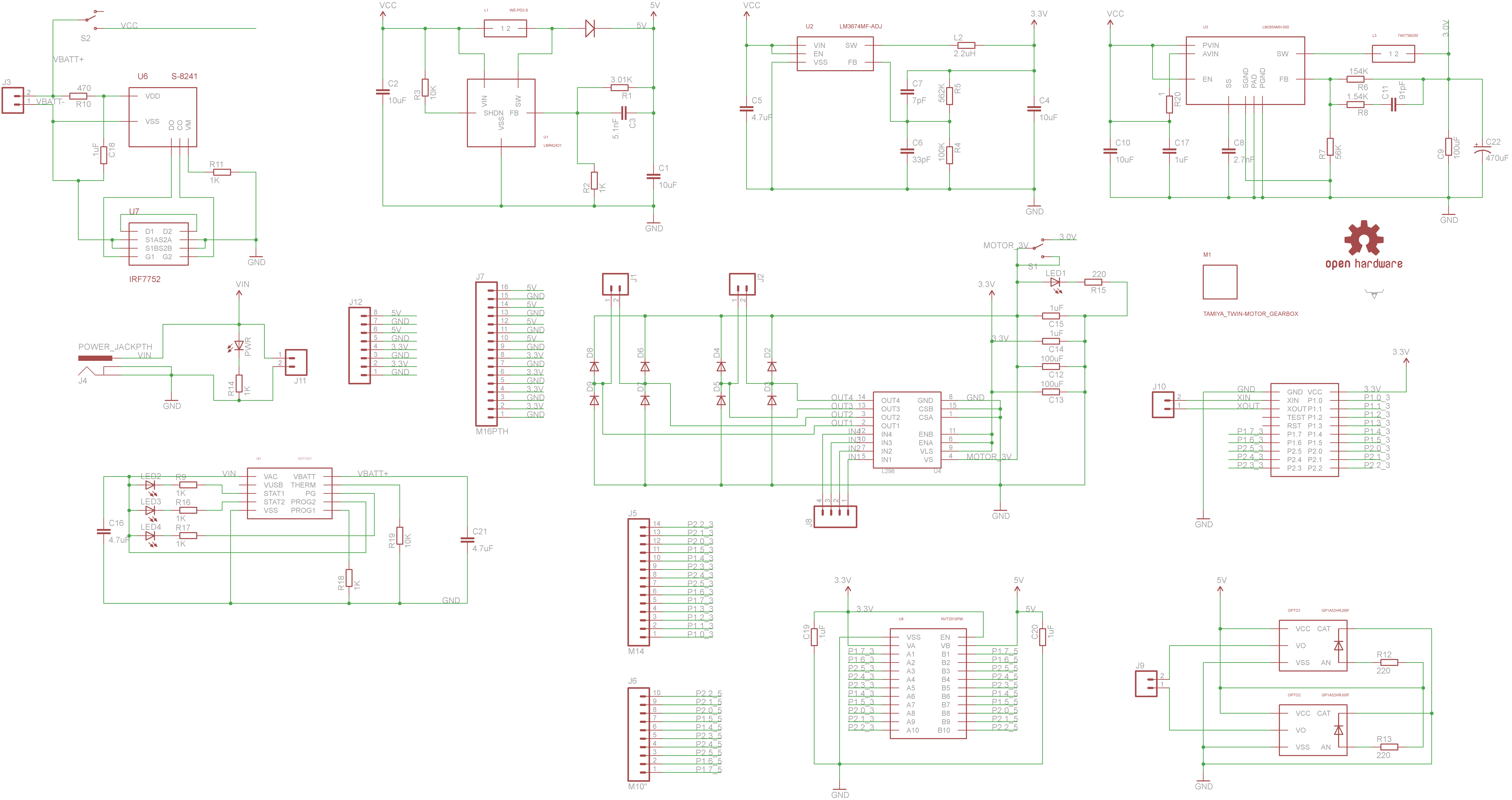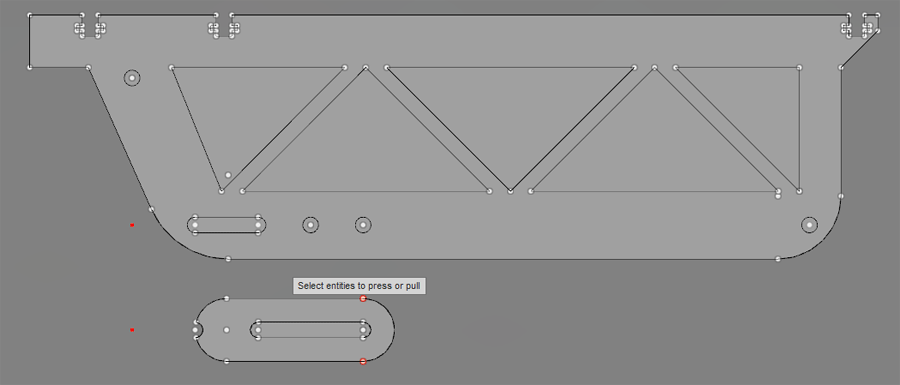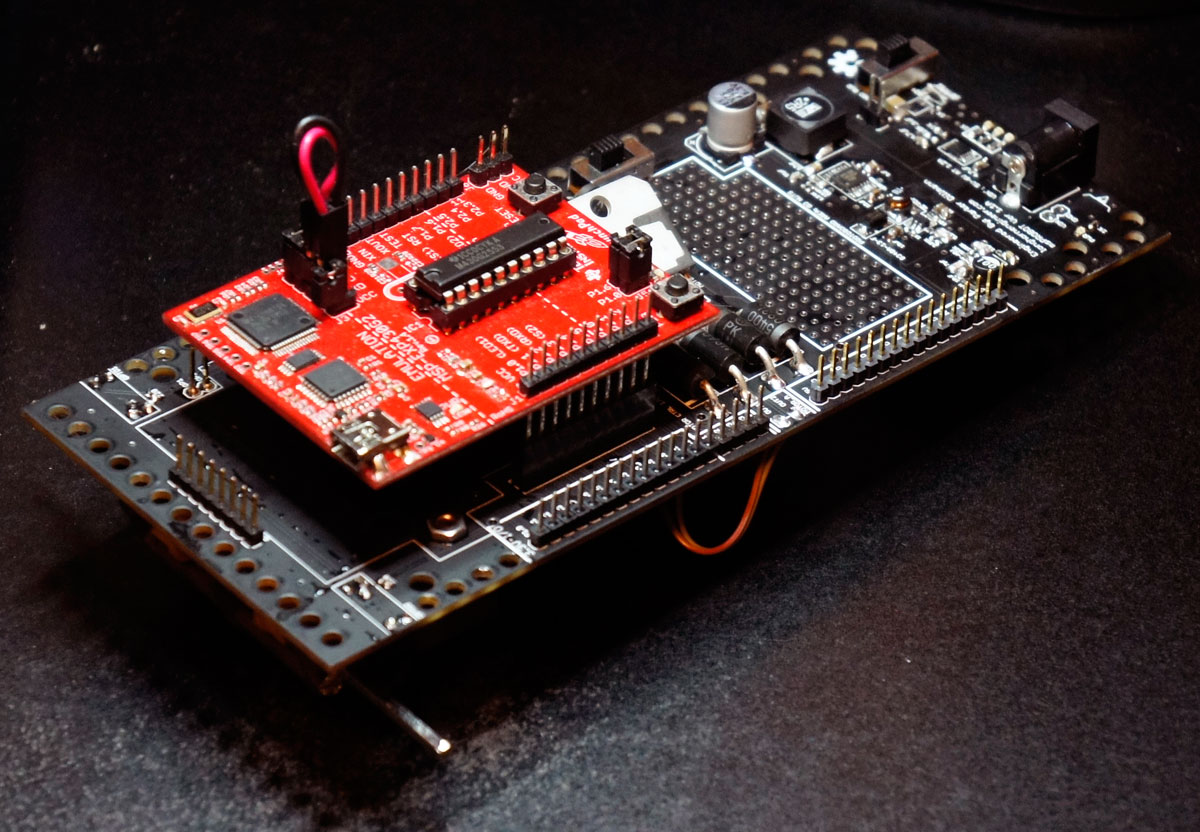 The populated PCB with the Ti LaunchPad socketed on top. There was a slight issue with the 3.3V power rail but it turned out to be a faulty capacitor on the feedback loop. Other then that the board worked great the first time I powered it up!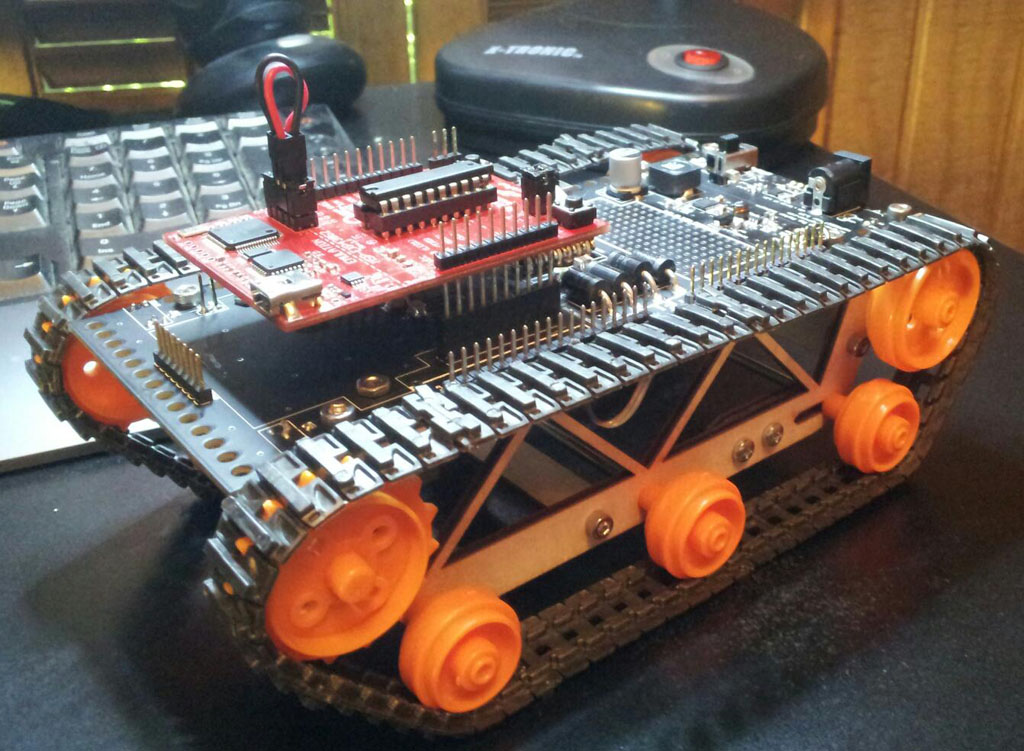 Fully assembled and ready to program.
PCB Files (Eagle V6)
---
PCB Ver 1.1A
Schematic Ver 1.1A
Bill of Materials Schematic Ver 1.1A
Bill of Materials
---

Name:               MFG P/N:               Mouser P/N:             QTY:
U1                  LMR62421XMFE/NOPB      926-LMR62421XMFENOPB    1
U2                  LM3674MF-ADJ/NOPB      926-LM3674MFADJNOPB     1
U3                  LM2854MH-500/NOPB      926-LM2854MH-500NOPB    1
U4                  L298N                  511-L298                1
U5                  MCP73837-FCI/UN        579-MCP73837-FCI/UN     1
U6                  S-8241ABPMC-GBPT2G     628-8241ABPM-G          1
U7                  IRF7752TRPBF           942-IRF7752TRPBF        1
U8                  NVT2010PW,118          771-NVT2010PW118        1
R1                  CRCW04023K01FKED       71-CRCW0402-3.01K-E3    1
R2, R11, R14        CRCW04021K00FKED       71-CRCW0402-1.0K-E3     3
R3                  CRCW040210K0FKED       71-CRCW0402-10K-E3      1
R4                  CRCW0402100KFKED       71-CRCW0402-100K-E3     1
R5                  CRCW0402562KFKED       71-CRCW0402-562K-E3     1
R6                  CRCW0402154KFKED       71-CRCW0402-154K-E3     1
R7                  CR0805-FX-5602GLF      652-CR0805-FX5602GLF    1
R8                  CRCW04021K54FKED       71-CRCW0402-1.54K-E3    1
R9, R16, R17, R18   CRCW06031K00FKEA       71-CRCW0603-1.0K-E3     4
R10                 CRCW0402470RFKED       71-CRCW0402-470-E3      1
R12, R13, R15       CRCW0402220RFKED       71-CRCW0402-220-E3      3                                 
R19                 CRCW060310K0FKEA       71-CRCW0603-10K-E3      1
R20                 CRCW04021R00FKED       71-CRCW0402-1-E3        1
L1                  744773018              710-744773018           1
L2                  NLCV32T-2R2M-PFR       810-NLCV32T-2R2M-PFR    1
L3                  7447798250             710-7447798250          1
OPTO1, OPTO2        GP1A52HRJ00F           852-GP1A52HRJ00F        2
C1, C2, C10         C0805C106K8PACTU       80-C0805C106K8P         3
C3                  GRM2195C1H512JA01D     81-GRM2195C1H512JA1D    1
C4                  C1608X5R0J106MT        810-C1608X5R0J106M      1
C5, C16, C21        GRM188R60J475KE19D     81-GRM18R60J475KE19D    3
C6                  140-CC501N330J-RC      140-CC501N330J-RC       1
C7                  140-CC501N7.0D-RC      140-CC501N7.0D-RC       1
C8                  140-CC501B272K-RC      140-CC501B272K-RC       1
C9, C12, C13        C3225X5R0J107MT        810-C3225X5R0J107M      3
C11                 GRM1885C2A910JA01D     81-GRM1885C2A910JA1D    1
C14, C15            GRM32RF51H105ZA01K     81-GRM32F51H105ZA01K    2           
C17                 GCJ219R71C105KA01D     81-GCJ219R71C105KA1D    1
C18, C19, C20       C3225X7R2E104KT        810-C3225X7R2E104K      3
C22                 VZS471M0JTR-0810       140-VZS471M0JTR0810     1
D1                  B340A-13-F             621-B340A-F             1
D2 - D9             1N5400RLG              863-1N5400RLG           8
LED,1, LED2, LED5   VLMS1300-GS08          78-VLMS1300-GS08        3
LED3                VLMTG1300-GS08         78-VLMTG1300-GS08       1
LED4                VLMG1300-GS08          78-VLMG1300-GS08        1
S1,S2               STS121PC04             506-STS121PC04          2
J1 - J3, J9 - J11   93287-202HLF           649-93287-202HLF        6
J4                  KLDX-0202-AP-LT        806-KLDX-0202-AP-LT     1
J5                  68024-103H             649-68024-103H          1
J6                  69190-410HLF           649-69190-410HLF        1
J7                  68002-216HLF           649-68002-216HLF        1
J8                  68002-404HLF           649-68002-404HLF        1
J12                 68002-208HLF           649-68002-208HLF        1
MCU                 MSP-EXP430G2           595-MSP-EXP430G2        1  
STACK_HEADERS_P10   929834-03-10           517-929834-03-10        2


Chassis Files (AutoDesk 123D)
---
Laser Cutting Ver 1.0
Laser Cutting Ver 1.1
Laser Cutting Ver 1.2